Back to Basics Part III: Exploring Alternative Crepe Paper Options for Paper Flower Making
Jun 19, 2023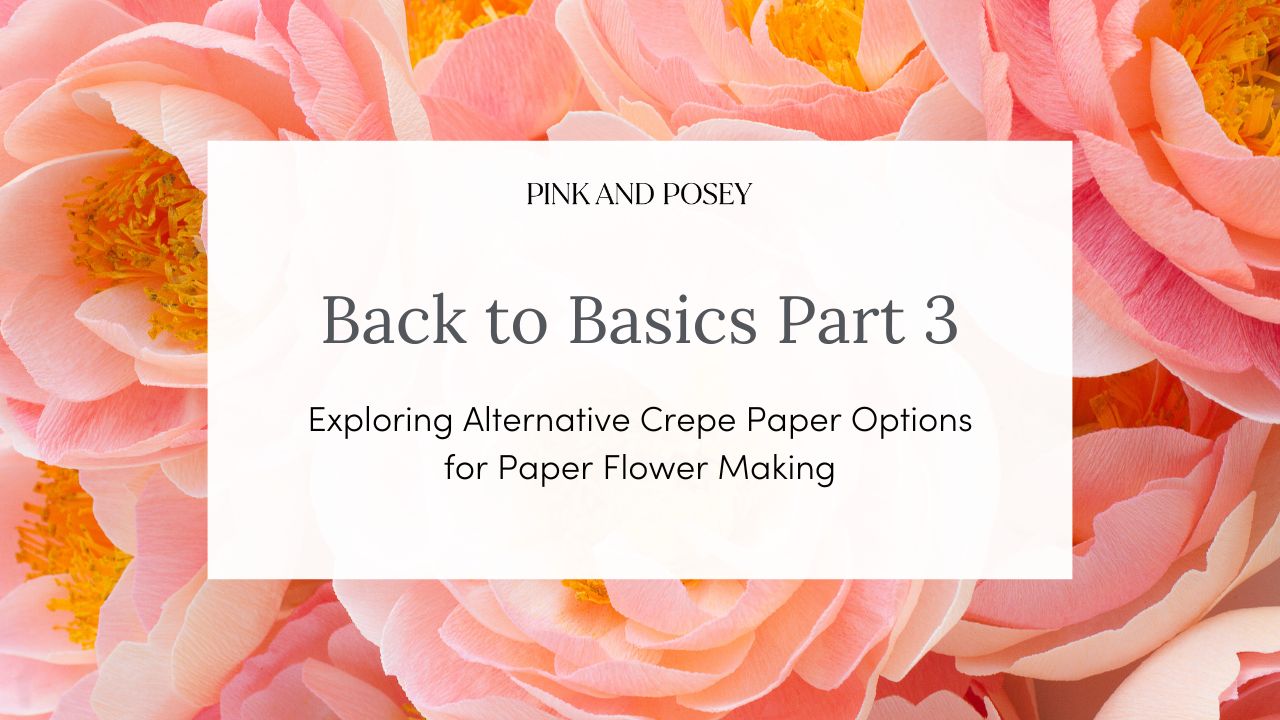 Explore vibrant colors, delicate textures, and endless possibilities with alternative crepe paper options beyond Italian and German varieties. Discover Chinese, Mexican, and Dennison crepe paper, and learn where to purchase them to infuse your paper flower creations with a distinctive flair.
We're diving into a world of vibrant colors, delicate textures, and endless possibilities as we explore alternative crepe paper options beyond the popular Italian and German varieties. Let's chat about Chinese, Mexican, and Dennison crepe paper.
As part of my Back to Basics series, I'm exploring crepe paper options for paper flower making. In the past few weeks I've delved into Italian crepe and German paper.
Crepe paper has long been cherished by artisans for its ability to transform into lifelike blooms. However, the market is brimming with diverse crepe paper choices that often go unnoticed. By embracing these lesser-known alternatives, you can unlock a whole new dimension of creativity and uniqueness in your paper flower creations.
By incorporating these alternatives into your paper flower projects, you'll not only expand your artistic repertoire but also infuse your creations with a distinctive flair that sets them apart from the rest. Whether you're making a beautiful bouquet for a special occasion or adorning your living space with everlasting floral arrangements, this blog post will equip you with the knowledge to make informed choices when it comes to selecting the perfect crepe paper for your projects.
Stay tuned for our upcoming Back to Basics posts, as I continue to unravel the wonders of paper flower making and provide you with valuable insights, tutorials, and expert advice to nurture your creativity. Subscribe to my newsletter to ensure you never miss an update on the latest trends, tips, and techniques in the captivating world of paper floral artistry.
Let's get started!
Chinese Crepe Paper
When it comes to creating stunning paper flowers, Chinese crepe paper emerges as an affordable and captivating option. Here are the top reasons why working with Chinese crepe can be advantageous as a paper artist:
Color: The color of Chinese crepe paper is usually consistent and vibrant, and the paper holds up well over time. I have found that Chinese crepe does not fade as much as its counterparts, German and Italian crepe papers.
Texture

: Chinese crepe paper has a unique texture compared to other types of crepe paper. It's often denser and has a closer, finer crinkle pattern. This gives it a slightly different feel and also influences how it can be manipulated. The creases in the paper allow it to be stretched into curves and other shapes, making it versatile for different projects.

Stretch

: Chinese crepe tends to be resilient, allowing for stretching and shaping without tearing, which is a key characteristic when it comes to making intricate crafts like paper flowers. It can typically stretch more than other types of crepe paper, which can be advantageous when creating paper flowers as it allows for more varied and dynamic shaping of petals and leaves.

Price

: The low price point makes Chinese paper more affordable, which is always helpful to small business owners like us. It's a great option for experimenting and take bigger risks because of this.
With options like the 180 gsm extra heavy or the 100 gsm heavy, known as premium colored crepe, you'll discover a world of possibilities.
Now you do have to be more careful when purchasing Chinese crepe. It tends to vary more in color and thickness from roll to roll than more premium paper like Italian or German. It's always a good idea to sample a few different types to find the one that best suits your particular needs and to plan on different batches not being as consistent when you work on a paper flower project.
While it may not offer the same consistency as its German or Italian counterparts, the remarkable qualities of Chinese crepe paper are not to be overlooked. With its affordability and unique characteristics, you can still achieve remarkable results. Many talented paper florists have turned Chinese crepe paper into extraordinary floral masterpieces.
The best place I've found to purchase Chinese crepe paper is papermart.com.
Mexican Crepe Paper
When it comes to paper flower making, Mexican crepe paper is a colorful option that can be utilized in the right situation. Let's start with its best qualities:
Color

: The colors of Mexican crepe paper are bright and vibrant, reflecting the lively culture and aesthetics of Mexico. It is a popular choice for creating traditional Mexican flowers like marigolds for Día de los Muertos celebrations or vibrant decorations for fiestas.

Texture

: The distinct texture of Mexican crepe paper sets it apart. It is lighter and slightly thinner compared to Italian or German crepe paper, providing a unique tactile experience. The crinkles in the paper are less defined, giving it a smoother feel.

Weight

: Mexican crepe paper's lighter weight and thinner nature make it particularly suitable for projects where bulkier paper might be impractical. The thinness of Mexican crepe paper allows for detailed work.

Cost

: Mexican crepe is very affordable. You can definitely play around with this paper without breaking the bank.
Now the cons. You do get what you pay for with this crepe. Because of that thinness, artists should handle it with care as it may tear more easily under pressure than thicker counterparts. It's going to be more difficult to create very realistic looking paper flowers with Mexican crepe.
That said, the goal with every paper flower is not realism. Play around with this crepe to make more fantastical creations. A quick search on the internet of Mexican crepe paper flowers will bring up bouquets of vibrant, fun blooms that are perfect for certain events or occasions.
For the best selection and convenience, you can purchase Mexican crepe paper at justartifacts.net or on amazon.com. Unleash your creativity with the bold and lively spirit of Mexican crepe paper, and let your paper flowers bloom with vibrant beauty.
Dennison or American Crepe Paper
Dennison crepe paper is a beloved choice for creating vintage paper flowers. Its delicate weight of 32 gsm exudes old-fashioned elegance, even if it won't be your first choice for most projects. With its light texture and rich colors, Dennison crepe paper captures the essence of bygone eras.
As the first crepe paper manufacturer in the USA, Dennison continues to produce this beloved material on their original factory machines, upholding a legacy of quality and craftsmanship. A simple search for Dennison crepe online reveals a treasure trove of vintage crafts, showcasing the nostalgic beauty of this renowned crepe paper. With an impressive range of 134 solid colors and 28 printed patterns, Dennison crepe paper offers many creative possibilities.
For the finest selection, visit rosemille.com and add some vintage charm to your paper flower making.
Homemade Paper
Another option is to make your own paper. This is a great way to use up old scraps and experiment with something new.
You can reference this tutorial for more info, but here are the basic steps:
Mix the paper scraps with water and beat them using a blender to create a pulp.
Pour the pulp into a flat pan, ensuring an even distribution.

Insert a screen into the pan, then carefully lift it out, allowing the excess water to drain.

Blot the paper pulp with a cloth or towel to remove additional water.

Roll the paper gently to further extract excess water.

Allow the paper to dry completely.
The resulting homemade crepe paper will be thicker than other varieties, but it retains its beauty and can prove useful for a wide range of projects. Let your imagination run wild as you explore the endless possibilities of this unique material.
Where to Purchase Crepe Paper
Embarking on your paper flower journey or looking to enhance your craftsmanship? The quality of the crepe paper you use plays a significant role in the success of your creations. Let's dive into some fantastic sources for premium crepe paper, ensuring your paper flowers always stand out.
Amazon

: Renowned as a worldwide marketplace, Amazon provides an impressive range of crepe paper types. With German, Italian, Chinese, and Mexican varieties on offer, it's a perfect place for both beginners and experienced artisans. Shop from the comfort of your home and find everything from variety packs to specific brands.

Etsy

: Home to independent sellers and handcrafted products, Etsy is the place to find unique, high-quality crepe paper. By choosing Etsy, you're supporting small businesses and tapping into the handmade community's magic.

Michaels or Joann

: If you have a craft store near you, they usually carry a small selection of crepe paper. You can also order from their online store. They typically offer a very limited selection of crepe paper, and you will most likely find Lia Griffith crepe paper packets here.

Paper Mart

: As an all-in-one craft supply shop, Paper Mart boasts an extensive range of crepe paper. From bright, lively colors to soft pastels, they offer just the right variety to cater to any paper flower project.

Carte Fini

: Specializing in luxurious Italian crepe paper, Carte Fini is a must-visit for paper flower enthusiasts. In addition to Italian crepe paper, they also provide a range of other crepe paper types to help you achieve the perfect texture and stretch for your blossoming creations.

Cartotecnica Rossi

: For lovers of Italian crepe paper, Cartotecnica Rossi offers premium, high-stretch paper, perfect for creating lifelike blooms. Their vibrant color range will ignite your creativity and bring your paper flower designs to life.

Rosemille

: Known for their vintage and craft supplies, Rosemille is a treasure trove of unique crepe paper varieties. Their offering, often including vintage-inspired and hard-to-find crepe paper, makes them a special destination for artisans.

Arlo Arts

: Based in the UK, Arlo Arts caters to international crafters, especially in Europe, with a beautiful array of crepe paper. They offer global shipping, meaning quality crepe paper is just a click away, no matter where you're based.

Petals and Pearls Flower

: This online boutique offers top-quality crepe paper with a focus on unique textures and colors. Petals and Pearls Flower provides both traditional and specialty crepe paper to help you take your paper flower artistry to the next level. Carol, the owner, also offers a service to teachers to help put crepe paper flower kits together for your class.
Remember to look at customer reviews and ratings when choosing where to purchase your crepe paper to ensure that you're getting a high-quality product. Whether you're crafting a single intricate rose, a bouquet of vibrant poppies, or embarking on a large order for an event, the right crepe paper is waiting to bring your artistic vision to life. Enjoy your crafting journey!
To wrap things up, you can unlock a whole new dimension of creativity and uniqueness in your paper flower creations with Chinese, Mexican, Dennison, and even homemade crepe paper. As you expand your artistic repertoire with these alternative crepe paper options, you can infuse your paper flower creations with a distinctive flair that sets them apart from the rest.
Stay tuned for more Back to Basics posts and explore the endless possibilities of paper flowering making with me!
Coming Soon: My First Book!
How To Make Paper Flowers
Sign up for a sneak peek at the book, and for updates on its publication.
I respect your privacy and will never share your email and contact information with any third party without your permission.